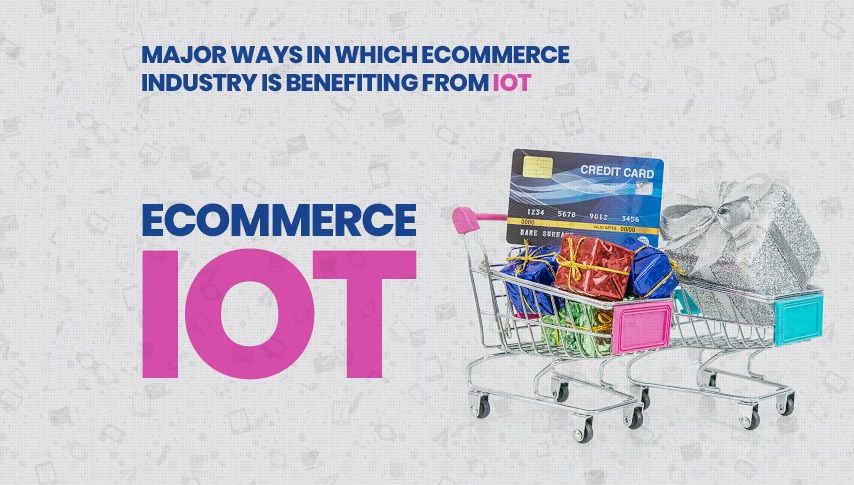 Today we are living in a digital world; hence our lives have become a lot more dependent on the internet, computers, and smartphones. Ecommerce is a byproduct of these new technical developments, and it is now expanding at a fast pace. Experts have predicted that soon it will become a mammoth.
Earlier people used to go to the brick and mortar stores to buy things, but now most of them prefer to use ecommerce websites or ecommerce mobile apps to do most of their shopping. That's why there is also a massive demand for the right ecommerce development company as many retailers want to launch their ecommerce website as soon as possible.
If you want to understand how fast e-commerce sales are increasing, then have a look at the graph below.
Retail eCommerce sales worldwide from 2014 to 2021 (in billion U.S. dollars)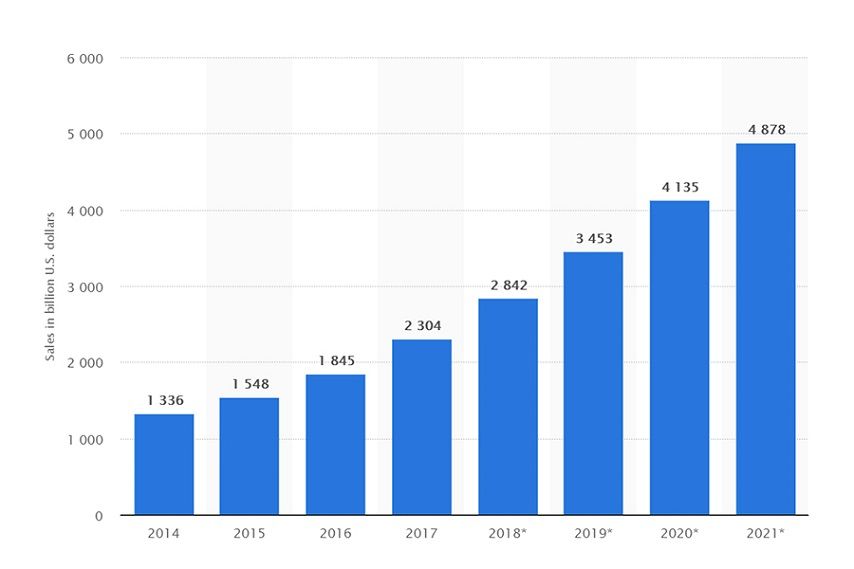 Source: Statista
As you can see, in 2017, retail e-commerce sales worldwide amounted to 2.3 trillion US dollars, and by 2021, this is projected to grow to 4.88 trillion US dollars.
Every day we see many new trends coming in the market, and one such highly promising direction is the progress and adoption of IoT or Internet of Things.
Also, look at the following estimates:
The retail investment in IoT is going to hit $2.5 billion by 2020.
There will be a 68% increase in the ecommerce investment in machine learning and cognitive computing.
There will also be a 57% increase in the ecommerce investments in automation.
Already 70% of the retailers are interested in employing the IoT to improve conversions and better serve their customers.
Ecommerce retailers have already harnessed the power of big data for generating product recommendations and predictions, and now they are on the verge of implementing IoT in a big way. Let us elaborate on the impact IoT would have on the ecommerce sector in the coming years.
What is IoT (Internet of Things)?
IoT or the Internet of Things is the latest trend in the technological market, which is bringing lots of benefits for businesses as well as for general users. IoT is a network of all everyday objects, things, machines and other electronic devices are connected to the internet.
These devices communicate and share lots of data with each other. Now a day we use many such electronic devices-cars and home appliances like smartphones, Alexa, Smart TVs, Refrigerators, ACs and more-monitored by sensors.
These types of interconnected devices bring many benefits to our lives. Moreover, they also provide a huge opportunity for ecommerce companies as well. As we know, online ecommerce stores don't have the option to meet customers face to face. But internet-connected devices give them the opportunity and the chance to know their customers better in more useful ways.
Many experts say that the combination of IoT and Big data is going to bring a revolution in the ecommerce industry. We will now see the deployment of smart devices into ecommerce, which will bring lots of intelligent insights. These insights can be used to increase customer engagement and to push the business forward.
Many connected devices are emerging, which will change the way we do business. IoT devices generate a massive amount of data. If ecommerce companies harness this enormous amount of data, then they can improve their productivity tremendously and simultaneously enhance the online shopping experience of the customers.
What is Benefits Ecommerce Industry Getting from IoT?
Here are the ways e-commerce businesses can benefit from IoT:
1. Personalization & recommendations
IoT brings numerous possibilities for personal recommendations. The businesses can go for personalized advertising to target a specific group of customers.
A great example is your bathroom geyser. In winter you turn it on when showering. The temperature sensor is connected to the internet, will send information to an online store where you have an account, and it will send recommendations for winter items like a blanket, warm sweater or jacket, hot beverages and more.
2. Enhanced customer service
Ecommerce companies are already using big data for making informed decisions and for personalization. They now also analyze the data collected from various social media platforms and forums to understand the unique needs of their customers. IoT can significantly help ecommerce companies in enhancing their customer service experience.
For example, they can track customer preference for particular products, their shopping behavior and order history and their pattern of buying things. It will help them in better customer engagement, which will lead to enhanced customer service and a higher level of sales.
Also, the data collected by IoT analysis will encourage ecommerce companies to provide offers, discounts and ways to deliver items as per the preferences and timings suited to the customers.
IoT devices can also send ecommerce companies information about the products which are facing problems and can help in quick resolution of the issues.
3. More efficient inventory management
Inventory management is something which is required in all kind of ecommerce businesses. The good thing is that IoT can help a lot in this area, and the IoT can do almost all of the stock management process.
We now have IoT sensors, RFID tags and some other types of chips which make the management of inventory in real-time quite possible. IoT can help in streamlining the product flow from start to finish in an ecommerce company. The IoT devices can immensely improve the monitoring and tracking of inventory items and remove the chances of human errors as all the processes of inventory management are fully automated.
IoT devices can also perform more tasks as they can help in keeping information such as name and type of product, its manufacturer, its expiry date or best use before date, its price, its batch ID and the number of items left in the stock.
With this, the warehouse manager can make predictions for future sales and the workers can locate the correct item for which they have got the order easily. Ultimately all of this will enhance customers' shopping experience.
4. Logistics and supply chain management
On any excellent ecommerce business to flourish properly, an uninterrupted and effective supply chain is very important. IoT can help ecommerce companies to track their goods when they are on the move and prevent these goods from being lost during transit. We can use RFID tags and GPS technologies to track the shipped items on the move at any stage of their journey process.
IoT devices can give information about the items, including their driver, location, track, status, and even the weather. The ecommerce company can even manage the route and get the speed data of the transport and can figure out the approximate arrival time and remove any possibility of their misplacement in the route. IoT devices can also use some additional sensors and cameras for real-time monitoring of the goods during the delivery process.
5. Drones and self-driving cars
Most people think that right now, we only have small robots working at warehouses, but there has been extensive research going on in the direction of self-driving vehicles/cars/drones. These can be used to deliver packed items sold on ecommerce websites.
How the IoT enabled robots and cars will help ecommerce sites? You can understand it this way. An IoT enabled robot will pick the shipment from the warehouse, carry it to the self-driving vehicle and transfer the information like its delivery address to that vehicle which will finally deliver it without any issue whatsoever. IoT enabled drones can accomplish this even faster!
6. Smart homes and roles of digital assistants
Generally, people think that smart homes are not related to ecommerce but looking at the current trend, we can safely say that they have a very important role to play in ecommerce transactions in the years to come.
In the future, people will not prefer to use their computers for opening the ecommerce websites to order a product. Rather, they will simply tell their digital assistants to buy it for them. These AI-based assistants will do all the required task of buying the items without needing any human assistance.
Therefore, the ecommerce websites will even need to change their marketing strategies as they will have to optimize their websites and products to target the AI-based assistant rather than humans.
For example, suppose a user asks his/her digital assistant to buy an office diary. Based on previous order history, the digital assistant would figure which diary is preferred and place an order for it from an ecommerce store that suits the person's preference.
This simply means that in the near future, businesses have to do marketing keeping AI-based assistants in mind, and they have to optimize their websites for the same purpose.
Conclusion
It is just the start. There are many challenges too which need to be overcome like how to manage the huge amount of data, how to make the whole process more secure, who owns the data, how to quickly execute AI algorithms over a large data set etc. But the future of IoT in ecommerce looks highly promising. There is no doubt about that.
Technologies like Big Data & Analytics, Artificial Intelligence, and machine learning are going to help a lot in simplifying the process of IoT playing its essential role in the ecommerce business, and we will see a massive demand for an expert web development company which can develop ecommerce websites that can align itself with such emerging technologies.
In any case, whether you are hiring a company or a freelance developer to build your ecommerce website, do thorough research before striking the deal as all developers are not aware of the latest technical knowledge regarding IoT and its integration with ecommerce.