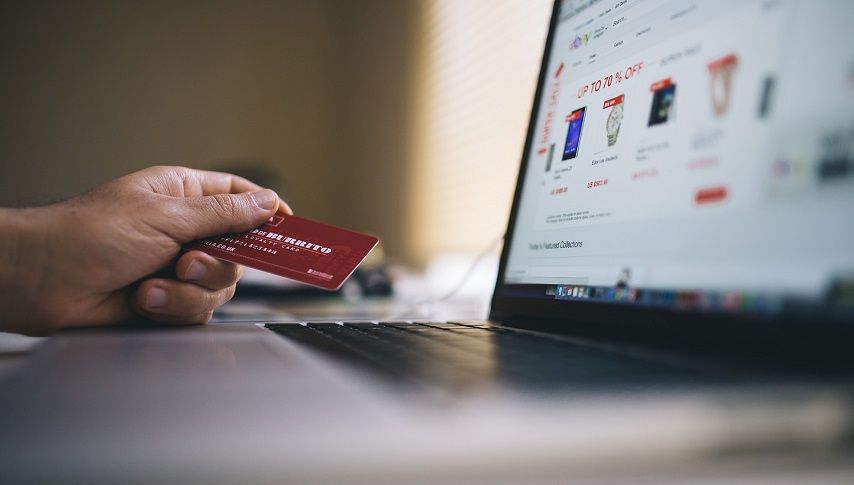 Have you ever asked yourself where you are falling short in reaching your website's full potential? From driving traffic to retaining it, the attraction of a website depends on several things.
Are you in the surviving business or in the booming, thriving one? Fine-tuning your Conversion Rate Optimization can make or break a business. Here is a list of what you can expect by the end of this article:
CRO
Numbers to be aware of: calculation, average rate and specific rates
Typical mistakes made with CRO
Top 36 tips for CRO
Baby steps said the sensei to his prodigy, and we shall follow the same. Let's break it down and refresh our memories.
Conversion
You visit nearest multiplex's website. Justice League is out and you just need to figure out what is up with Superman's moustache situation. Is it that bad, whispers Marvel fans while DC diehards hiss at the naysayers.
Here is what just happened:
You visited a website
Looked up the new releases, timings, ticket prices
Found your movie and bought a ticket
You can say you were converted from a site visitor to a purchaser, called a Macro Conversion. Furthermore, notice these aspects: your traffic buys your e-books, coupons, joins a thread and registers an account to post about their red panda obsession, a more Micro side of things.
Any action referring to investing in what you have to offer falls under this term.
Conversion rate
Without complicating things, imagine how sick salespeople are of all us window shoppers. Us teasers! Do you need a steady flow of customers who leave the shop as buyers, yes?
If only medieval rules applied and you could close the gates and forcefully make them buy stuff whilst playing Rebecca Black's classic Friday things would be convenient.
Mathematically, stay with me here, the ratio of visitors to buyers must escalate to bring profits. The path laid by the computer and Internet Gods suggest we apply tools, i.e. CRO, which are in large parts substance and not decorative only. They boost revenue and face value of your eCommerce site, any site, by the way. The discipline remains constant regardless.
Conversion rate optimisation
Your pet supplies website named Marv's Mission Impawsible is suffering losses because Daffy & Nemo's Corner is driving you out of business. Yeah, no kidding. Puns are annoying and only dads laugh at them, and the dad demographic has not exactly been a heart stopper lately, said no dad ever.
The latter is a clearer store name and gives you an idea of what to expect. Kids love it and parents can't say no the kids on the account of the kids being key to deciding where they put you between your house and the local assisted living facility with the tagline "It could be worse".
Techniques for CRO which not only pretty up your website, but make it streamlined, clutter-free and helpful are required 24/7. They come with sites consisting of solid products and offers, constantly growing and geared towards being your pal, essentially.
Visitors should be in shock and awe and wonder as they come across your site. It is the equivalent of finding a good piece of music and keeping that secret for a while. CRO must accentuate and enhance your site. It must feel as though the visitor found the answer to the Universe; a treasure chest, quite literally.
Retain customers and these repeat customers must attract others to join the bandwagon. Oh, and this little wagon is headed straight to Success land.
You need to close the deal. Here's Alec Baldwin offering some words of wisdom.
Importance of CRO for SEO
Your buddy who suggested you restart your computer after it froze now scoffs at this "Crow" word he is fed up of since you first brought it up. How can he not share in the excitement?
You walk out of a Hyundai top of the line Genesis sedan and bystanders will not take much notice. Come out of a Rolls-Royce Phantom and everyone will study every article of your clothing, accessories, smell the cologne in the air and talk about you. Talk. Yes, that essential indicator of interest is necessary for setting you apart.
Your eCommerce site, i.e. your Phantom, may not come in original wood, metal and leather interior with an aluminium body ready to rocket towards Mars. However, it replaces it all with premium features by CRO.
Know your crowd – tried and tested means of optimization filters out those who remain window shoppers. Moreover, it lays down the tactics necessary to reach and keep your desired visitor-buyer group.
Wolf of Wall Street – no, you are not going to jail. Always a good opener when giving advice. Instead, that drive towards making money, smartly, is required.
With conversion tools in order and an established understanding of what the market desires, you begin to play efficiently. Not an infantryman but a sniper. You no longer have to worry about going out there, hustling for new customers.
Market presence and customer satisfaction will convert an existing number of visitors easily. It enables smoother ROI and smart outreach, without the active outreaching part, get it?
You got out of a Phantom, of course, you get the benefit of the doubt and of course, I will buy your wine and convince my friends to do so if they have not already. Enjoy the perks. Traffic, or your flock, will follow you, old shepherd.
Customer loyalty – keep in mind your visitor's overall impression of their stay on your website can be the difference between a dream or a nightmare. Serenade them but do not patronize with clever and overly promising deals.
Respect the niche audience, cater to their needs and actively grow by making them part of the conversation. A listener goes a long way, a talker gets ignored pretty soon. Hype and no substance become flashy and return short-term profits. Let's avoid that.
Treat them like small business shop customers so they feel heard. With that, they will feel secure in purchasing, sharing personal details, credit card information and join a mailing list.
The numbers game
Suppress the yawns and desire to tune out. Let's tangibly find out how attractive you are. We cannot all do that in life but here we can.
Greater the purchase over visitor numbers and you can rightfully ask "Mirror, mirror on the wall, who's the fairest of them all?'
Some sites are filled with visitors and cannot convince anybody to purchase. It's tricky, right? No anymore, keep reading.
Average conversion rate
Sit down with your calculator and if you find out on 2% of the visits, it ends in a purchase, you have hit the average, accepted rate. Over 2%, you are set but do not get complacent, of course.
Global average
The following shows quarterly growth average rates in the world and indicates the marks to hit.

Rate per industry
Your electronics website will sell more often than your homemade wicker products. If you are looking for ideas as to which niche you could step into, read up on the following data.
Rate per device, platform and channel
Helpful stats from Monetate Ecommerce Quarterly provide details on a device and platform basis.
Desktop and phone access and its effect from low conversion rates have been presented in a September 2016 report by Custora E-commerce Pulse

Additionally, purchase and visit data on the following devices: smartphone, tabs and desktop have been presented by the 2016 Adobe Mobile Retail Report.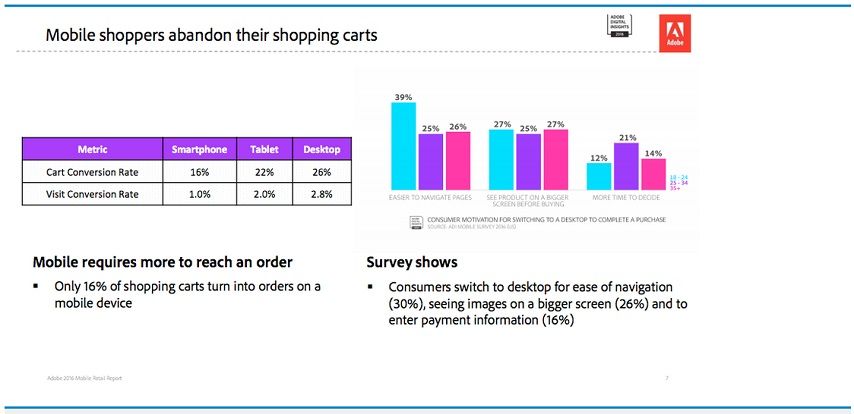 B2B data
Something to keep in mind while we mostly pay attention to traditional businesses & modes is the B2B nature of things. Daniel Burstein, Senior Director of Editorial Content at MECLABS Institute shared his findings.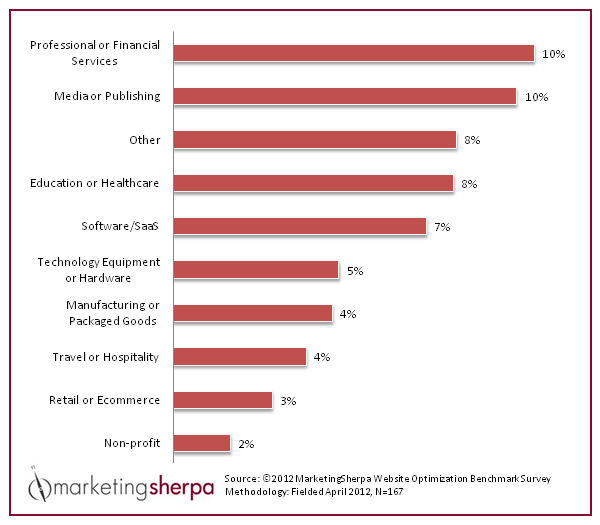 Variables affecting optimization
To clarify, this is not rocket science, but you can get as close to it as possible. Be informed of the issues which hold up the thin line between positive and disastrous e-commerce fates.
The kind of webpage you have
Target audience information with regards to geographical location, age, gender
Type of product or service
User platform & device you wish to cater to and its price
Why your present model is failing?
Have you been through your 12 steps of recovery yet? There is nothing wrong with not quite hitting the nail on its head. We learn, adapt and conquer over time. In order to not repeat mistakes, let's take inventory of what probably went wrong.
Not quite the looker – expanding upon the previous variables, what if things tip towards doom and it's for something basic? From design elements to nuances in the user experience as they feed off of your interface, mishaps and almost there cases will not show mercy.
Everything is disposable and forgettable if you lack what is needed. Customers will not hesitate to move on.
Dated approach to devices – unless you hibernate for years and was unaware of the latest progress, you best incorporate the latest tech and devices into your work and offer fair access. Smartphones are no longer a rage, but a way of life right now.
Shoddy copywriting and description – you do not have to present an encyclopedic presentation of the product. Go beyond the required minimum, just enough to keep the visitor curious to find out for themselves through an eventual transaction. Be a salesman, not a lecturer. Entice, intrigue, seduce and deliver.
Call to Action is an afterthought – inefficient use of these buttons keep the visitor in the dark; he cannot navigate the purchasing properly. You want to leave breadcrumb marks on the map and not hand over a compass, a spoon and leave them on a deserted island like Bear Grylls.
The checkout process is a nuclear wasteland – the difficult part of swapping a visitor's mind into buyers was the difficult part. Why then would you make the checkout process some obstacle course in the Colosseum? Lacking clarity in the shipment, payment and product information are some of the ways customers give up in the last second with a sassy you need me more than I need you.
Know your holiday seasons – you cannot attempt to beat traditions unless you are the Grinch. Watch out of dips after holidays but be sure to be proactive before it with excellent, incomparable offers and services.
Know your customers better than they know themselves – you are a friend, a shrink, a confidant and an enabler of transactions. You will only get your due respect and acknowledgment if specific needs are met. Read up on what Google Analytics has to say, embrace your demographic and be sure to know there is always a time for good offers and discounters. That way, nobody heads for the competitors and your business remains afloat and surfing.
Tests – diagnose and cure any and all ailments. Make that your attitude. Campaigns., product offers, design to even how you send a personal message after a purchase must be subjected to scrutiny. Filter out what is holding you back, blast your thrusters and away we go.
By now, we know the bits of information necessary regarding Conversion Rate Optimization, the stats and pitfalls. It is time to now move to advance measures. All aboard the 36 miles of CRO thrill ride.
CRO Techniques:
1. Research qualitative data analysis methods
You cannot oversell or undersell raw data. It will make your day or make you regret ever getting up from the bed. Indispensable tools such as Google Analytics coupled with tracking make you an expert bounty hunter. Think Django Unchained, except it is Internet stuff.
Qualitative Data Analysis provides you with CRO goldmines starting from information about the customer group. You can find out the pages of your site which are more populated too. Besides, preferred or repeatedly used features are noted.
Information about where the visitors are coming from (channel/referrer), the device and browser information are beyond helpful. Additionally, knowing at what points they exit the site can give you an advantage into building a profitable site with a loyal and growing base.
2. Product image and video quality
Nothing comes out of mediocre quality pictures. Detailed, high-resolution product images with the ability to zoom in allow the customer to get as close as possible. Remember, they cannot see it in person. It is only fair to make it feel as real and close as you can.
Why stop here when you can convey more? With great video resolution, audio, lighting, you can show the product, perhaps hold it, and give the customers a closer look, as far as texture and feel go.
3. Smooth checkout process
Your checkout procedure must be all caramel and devoid of crunches. Endorsed by Trustpilot, get rid of redundant steps, clicks and only focus on the selected products. Do not try to peddle something else and risk losing this sale.
Allow for purchase without the pain for registration, design the checkout layout as It's been fun. Come back soon instead of being too serious and receipt-y, if that makes sense. Create bills & payment section with an unobtrusive design. Your time to ask for attention is not now, you are making a sale, remember? Be gracious with the send-off.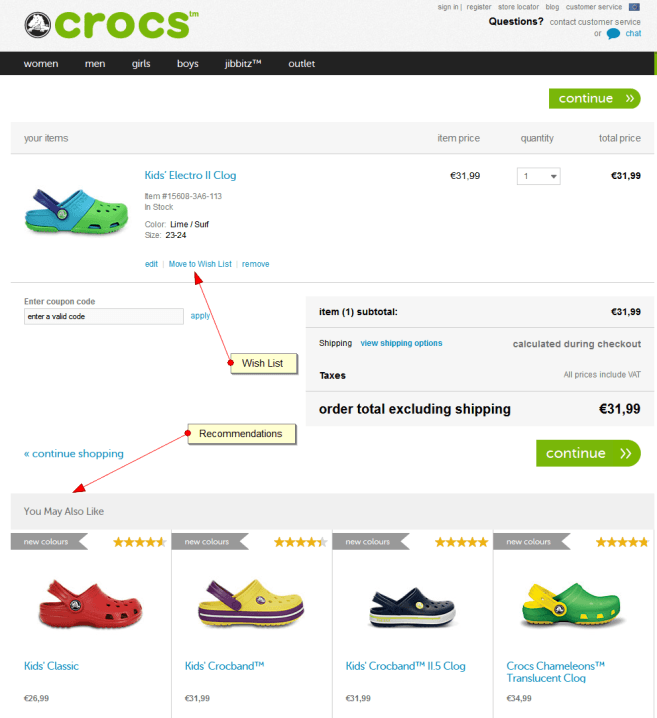 Cut the customers some slack and switch off self-service. Automatically input similar data such as billing and shipping address, provide live support for assistance instead of having to hit the back button to check if something is missing. But yes, do include back and forward buttons. Product stock availability, as Trustpilot suggests, should be notified earlier instead of the letdown at the end.
4. Dropping the shipping greed
Free shipping is not charity in any way. With that proclamation, some casual reading is necessary to reach the following findings: Nordstrom, Target, AT&T and these 39 other places pointed out by The Krazy Coupon Lady and other flat rates shown by Casey Runyan show there is something called goodwill and customer-YOU loyalty proven with years of data and track record. It pays off. These businesses are doing well and are blessed with fewer complaints compared to paid shipping.
5. Browser friendliness
Before making your site public, or if it is already, quickly glances at how different browsers, their versions, react and present your site. UX and its natural functioning vary given what new browsers bring to the table.
Adapt, and shine within newer parameters, and be better for it. Compromise and adjust, you have already lost. JavaScript, Flash and other programs must also be tested to check if they run properly.
6. Coupon codes
Ever listen to a podcast? You find Joe Rogan plugging his new special whilst promoting a coupon code for new listeners. Coupon Codes enable customers to receive a certain percentage discount on a product or service.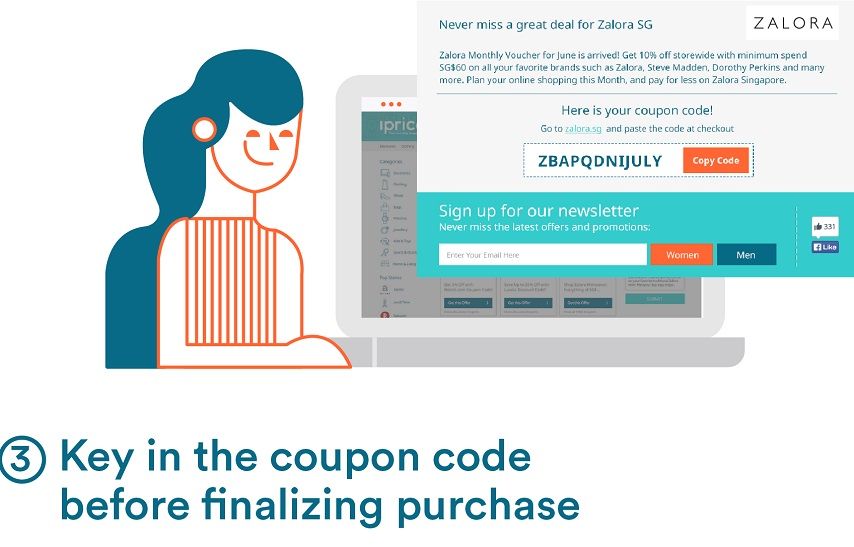 7. Realistic product prices
You have Jordans on your hands but you cannot go off expecting a huge price tag. You have to be practical and cannot let lower prices from competitors drive you out of the business. Besides, it is all about presentation and if you can market it well, meaning a site with strong CRO, perhaps some cash can come your way, deservedly so.
8. Killer copywriting
Start with a teaser trailer of things to come and deliver on point by providing comprehensive detail, in the Internet context, not a novel, about what to expect. Leave nothing to chance. Tell it like it is, make it human. You are addressing people; imagine how it would resonate if told in person.
9. Cart abandonment software
Visitors who left your site without purchasing create a strange vacuum, right? You can benefit from this by using software to add to your CR.
This software sends emails to customers reminding them of their paused order and offers a coupon to complete the purchase. Almost like you got paid for ditching them. It's all psychology, nobody is fooling anyone, but no one feels fooled either. It is a feelings game, anyway. Be on the level and they will treat you as just as smart and deserving of their business.
10. Efficient search filters
It is frustrating even after you type it correctly. No upper/lower case confusion managed to make do with what little specific search filters they provide. Still comes up with no results.
Search functioning has to be in tip-top shape and does not make customers suffer by providing filters you know you cannot follow up with. Do not give hope but do make results appear.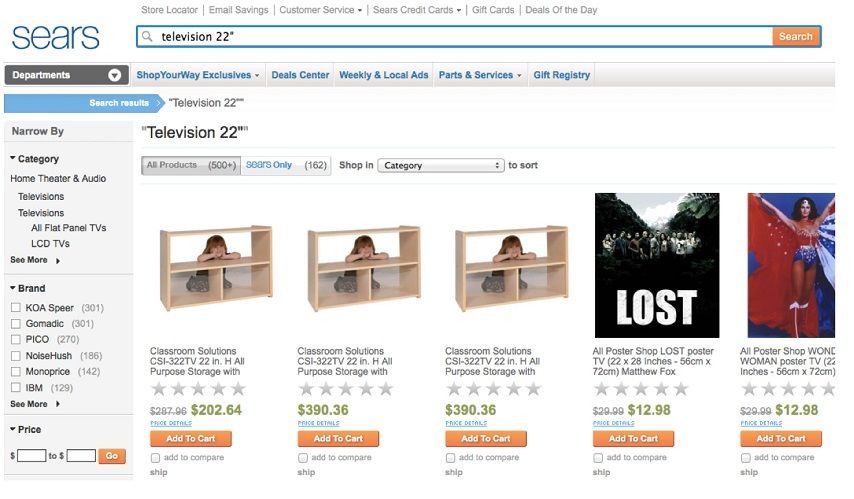 11. Convincing & trustworthy safety measures
You are in the people game. In sales, it is all about building trust. Prove you are up to standard thus ensuring they feel safe sharing their personal and payment details.
SSL, credit card logos/images and approved security measures provided by the likes of GeoTrust and other such companies are essential. It goes a long way in holding onto your base and also help in growing it.
To gain utmost trust from your visitors, you need a sign or mark on your website that instantly clicks in mind as well assures that the website is legitimate. One of the finest ways is to embed EV SSL certificate that not only shows verified company name but also provides green colour bar against your domain name. The green colour plus company name with country code shows that the authority has verified this website's authenticity and integrity. EV SSL certificate also helps to increase click through conversions on website and at later it will turn into high sales.
12. Device handling capability
Phones are those annoyingly indispensable objects you just have to address when entering into any bubble.
Is it phone friendly? Does it show all that I wanted on my site? Would Google even recognize my site? Do I meet their policies and algorithms?
Check them out be sure to deliver malleability. It cannot be stressed enough.
13. Online reviews & testimonials
Make customer reviews visible to encourage new visitors. Promote testimonials from industry leaders & peers to earn the street cred even money cannot buy.
Even if the reviews are of a dissatisfied nature, respond to all, regardless and make their voices heard. If someone can care enough to engage with you, you know they are invested. Show you value it and build mutual respect.
14. Customization is how you do it
3D movies, VR, AR and other interactive experiences allow one to feel like they are right there. Well, we discussed photos and videos, but we all enjoy making something. From the ground up to the final iteration, allow for filters; ones many users care about.
For example, if you wish to sell custom t-shirts, would you not want there to be an array of designs, colours, fabric and fonts? Place yourself in the shoes of a customer. What will you require and you take things from there?
15. Value proposition did right
Again, back to the root sales values. You browse to a site selling flower bouquets. Now you have a deadline to meet, a budget to fit and have little time to research other sites. Acknowledge the urgency with which customers arrive on your page. Address the previously written concerns, prove yourself, offer good deals and stand out.
The value proposition is something so many misses out on. It is not a subtlety issue, by the way. You either do it right or risk being swallowed by a sea of indistinct sites which do not stand out for such carelessness.
16. Sales and specials section
Who does not love Black Friday or any special discount week at a nearby store? You notice it because they make it a point to mention it separately. Ignore the pop-up form of floating offers and coupon deals. Be professional, act as you belong in this business.
Have a different tab or section for all special offers and sales deals. A layout should not be messy and in your face. Crisp, clean and distinct are qualities to strive for.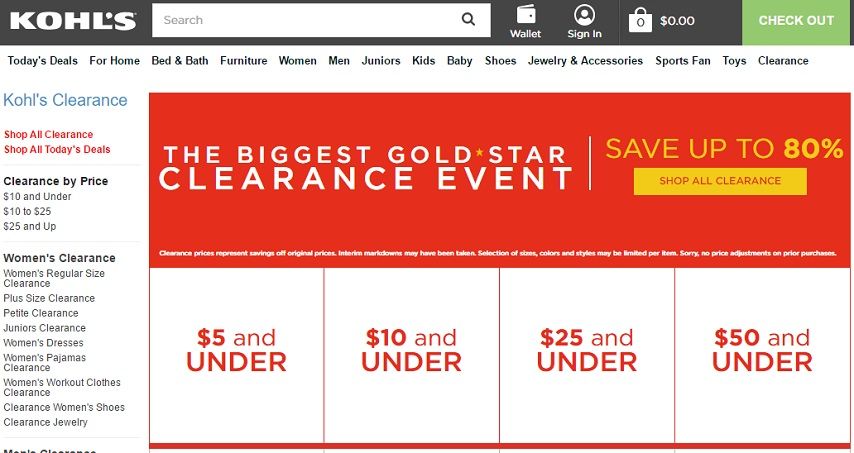 17. Show shopping cart contents
Customers do not want to feel confused or be forgetful. You do not know the day they are having or if they are in a rush. Ease all concerns by making your cart visible. You will always know which items you are picking and can also review it as you get ready to pay.
18. Upselling risk
You can suggest related products depending on what is already in the cart. Now, do you suggest pricier items or cheaper ones? What if it throws off the customer and you end up with no sale?
There is no point trying to be greedy here. Amazon does not upsell their customers. There is perhaps no point comparing yourself to giants but something can be learned from this.
You are already heading towards a guaranteed sale. Make the sale, upsell after the payment if need be and the customer can return if they wish to.
19. Guest customer registration Opt-out
This was touched upon a while back; it cannot be said enough times. If all you need are essentially the email and contact details, then switch off mandatory registration.
Give visitors the benefit of doubt. Let them make the purchase and get on with their day. Given how stress-free the transaction was chances are the person will return and would willingly sign up.
Or you can send emails along with signup benefits after a second guest purchase. Internet visitors are spooked easily and love stress & commitment-free transactions. It will pay off, trust it.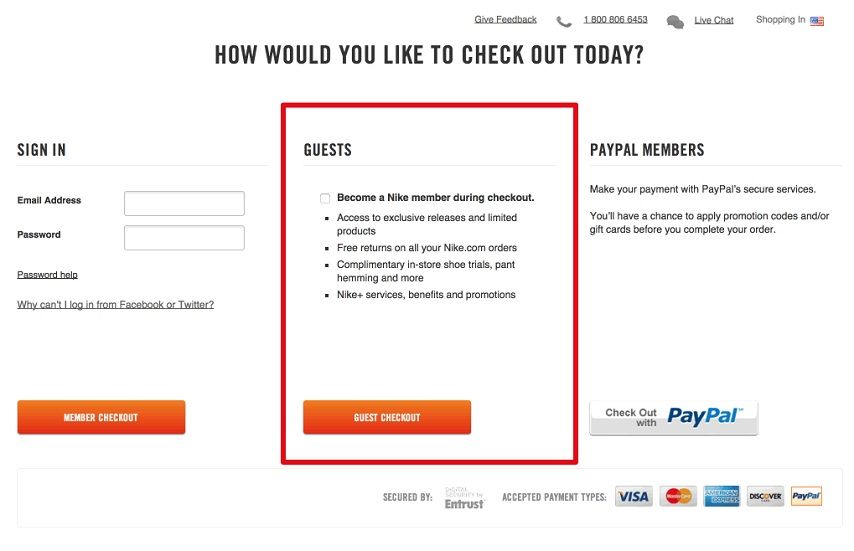 20. Account registration
This is the natural step into guaranteeing the above works. Despite not signing up, set up an account, and send them sign-in details once a guest purchase has been made. How easier can it get, right?
The second time around, they would not mind entering some name and pass to get in. They did not have to take the burden of signing up and still got an account. They might want to reward themselves by accepting your access information and make the most out of your site.
21. Live Chat
At times it can get a bit confusing to maneuver your way around a site. Perhaps you need assistance in finding a certain product, the filters were not getting you what you wanted or the checkout items are missing a piece.
It does not matter. Be right there with them, available to chat with. A kind, understanding communication help to win them over and would encourage them to come back.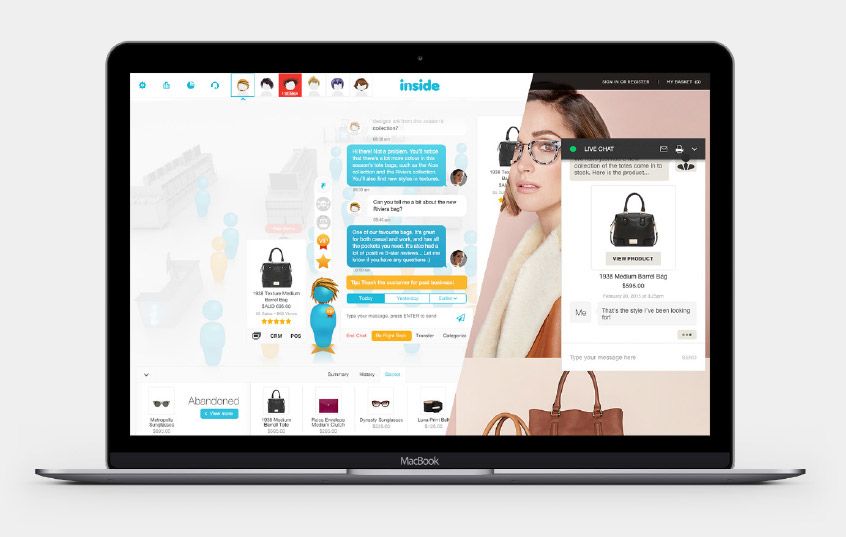 22. Social media as your junior sales executive
Promote your story, talk about yourself, e-commerce journey, discuss new products and generate interest so they visit your sites. Facebook, LinkedIn, Twitter and Instagram are amazing drivers for sales boosts.
Tags, mentions from notable users and shares can make numbers you never expected. Keep at it. Try YouTube for promotional videos, reviews and vlogs. Monitor it all using Hootsuite and be in charge of your luck.
23. Inviting web design
Developers, marketers, designers and other departments must have significant input. A bland approach where nothing is distinct and all blends into one make for something boring and inefficient.
Ensure clear displays of checkout and add to cart buttons, along with distinct tabs for products, offers, reviews, your background, other sites, social media presence and so forth.
Make it interesting to know about you. Compartmentalize into a three-course meal. A stew is not necessary for your line of work.
24. Efficient checkout forms
The basic rule to apply here is to ask for what is needed only. If it is a return customer, you already know their credit card and address information. Auto-fill it and they can change it if need be.
Shipping and billing address are also the same most times. Auto-fill that as well. Make it fast and only leave out information which you need but do not have already. Familiarity creates a bond, no point being strangers at this point, anyway.
25. Shopping progress always is shown
Keep things linear and show a path which only progresses toward a purchase. However, the previous steps taken should always be made clear. So, you have tabs for the address, shipping & payment and later reviewing of the order.
Make it distinct and easier to navigate. Leave out distractions, no upselling, no specials. Not now when you are so close to making a transaction to compensate for forgetting your kid's birthday. Now is not the time to buy the 'World's best dad' mug with 56% off. It is too late.
26. Generating goodwill
Be upfront. Mention returning system, guarantees, company contact information, FAQ, privacy policies and security measures. Design sections for these aspects to make sure there is no mystery. That is poison.
Transparency, care and self-belief build confidence in a visitor. The person would convert to a paying, dedicated customer soon after.
27. Create a database of followers
Routinely send out emails and keep your subscription list engaged. Let them know what to expect, a little heads-up. Especially, do it during the holiday season so their minds are made up and will do business with you. MaxTraffic, OptiMonk, OptinMonster will help build a subscription list.
Generate content and keep them informed. It will help turn a lot visitor on the list into paying customers if you reach them right now.
Surveys, questionnaires and ask for opinions on things in your line of work which can serve them well. The more you know, the less it will feel like you are selling to a mysterious audience.
28. Put your call-to-action buttons on a leash
Display features like 'add to cart' if someone is on a product page. A 'ready to checkout' if it is on a cart page. This only focuses on what is applicable.
29. Multiple payment options
Scammers and thieves have made it difficult to want to share credit card information. To make your customers feel comfortable, opt for a PayPal option to rid any concerns during payment.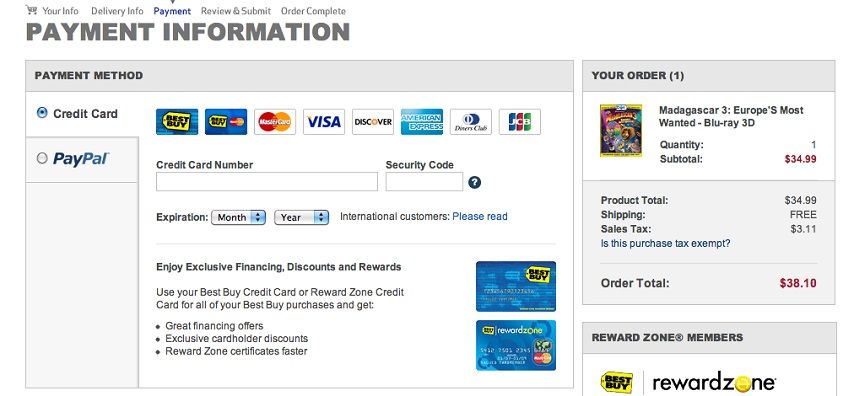 30. Restrategize and regroup
Take a breather every often to see where you are falling short. Are customers hesitating to buy certain products? Do you get similar complaints?
Notice patterns and make up for it by offering a discount or a coupon to those concerned customers.
Building trust takes a long time but can break easily at times. Keep at it and never lose sight of older customers. If something is no longer satisfying them, address and fix it. Always be on high alert. Another word for all of this is proactiveness. Strive for it and maintain that form.
31. Surefiren tripwire offer
Consider the low-cost deals you can give out without any risk. Also, pick out the pricier products you can sell to an existing customer. while still keeping it at a better price than your competition.
These deals are almost hard to turn down. The new visitor would not mind the low-cost deal and the existing, established customer knows your site. At least, long enough to know you would not suggest a bad deal. It is a win-win.
32. Back ordering
Judging by the interest out there, let your customer take control over the operation. If you are out of stock, let a customer made a personalized request to get a back-order item soon in their hands.
You would have ordered it, anyway, however, this shows urgency and optimum care for your base' needs. Listen and make us, your customers, feel heard. All we ask for in this cold, cold world of stressed people, derivative pop music, KPOP invasion, brainwashing content from Insta Celebs and 99 Fast and Furious installations.
33. Constant return of on-site surveys and user testing
You can never run out of ways to improve customer experience and satisfaction. Get to know them. Note what they look for, how soon they require something and how often. The budget, how you can improve things for them, the response in the manner of actual results and changes are marked to hit. People positively react to being listened to. Use it in your favour.
34. CRO status updates
You may already have begun to apply changes. Check up on your conversion rate status periodically with reference to visitors, conversion, purchase and revenue. Pretty cool, right? It's right there. You put the effort out into the world and it comes back with realistic, good results, the opposite of what this writer's family feels.
35. Welcoming new customers
Apply a hierarchy to this orientation program. From free giveaways in the form of articles or e-books. Once hooked, introduce paid products. Nothing too expensive. Enough to attract them and be sure to share worthy information. Not click-bait.
If it is of some substance, they will keep buying, drive the conversion rates and become part of an already growing and established a base.
36. Metrics of measurement
Detailed CRO reports will only help in heading towards an attractive site with tons to offer. Keep the following factors in mind to advance optimization:
Bounce rate: this is the percentage of folks who leave immediately after visiting you on a single page. What did you do? Gasp. Find what they were looking for and be sure to provide it the next time.
Exit rate: this percentage amount indicates the page they were leaving from. Why are you not stopping this mayhem? Heart palpations worsen. If the page keeps coming up, then something on it is off and not proving satisfactory information. Clearly, they stayed with you until that page. Follow their tracks, and ask yourself, as a customer, what you would have expected on that page.
Click rate: this number indicates the people who visited you by clicking a link. Tailor your site for AdWords to be ever present, at the right time and place.
Average Session Duration: if users are not spending enough time then they either did not find what they were looking for or did so easily and left. Higher numbers suggest continued satisfaction and increase chances of conversion, you slick mastermind.
Average page Depth: shows the number of pages visited before leaving your site. As you guessed, it could suggest a higher conversion rate. But it could also indicate confusion; visitors left only after not being able to find something.
Test it all, check your rate status after introducing corrections and changes. If you have already started, you know it is a never-ending task. Keep working at it.
It is never old and always reinventing itself. You can go with it or be lost in an abyss of e-commerce damnation built from wretched misery and mediocrity. Sweet stuff.
The positive side to it all is you must apply this Conversion Rate Optimization techniques to be ahead of the pack, nothing difficult. Put your time into it, results will appear accordingly.